Lorado – Lorado Taft – 80s Austro Daimler Vent Noir conversion – spoken for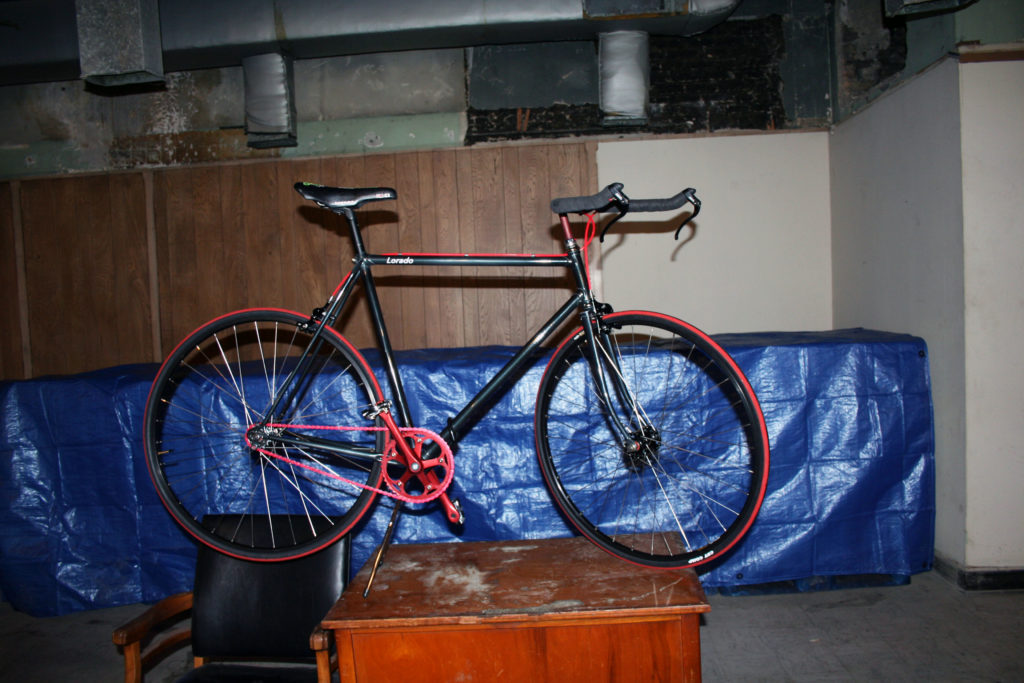 Lorado – Lorado Taft – 80s Austro Daimler Vent Noir conversion- Inter 10 , lugged Reynolds 531 with zero braze-ons, as it would have originally been outfitted with Camp clamp on shifters, guides, stops and clamps. These are the same factory produced frames that sold as Puch in Europe.
Lorado Taft was an American sculptor, educator, orator and writer. He was born in Elmwood, IL in 1860 and after being home schooled, got his Bachelors and Masters from the University of Illinois where his father was a professor of several science subjects.
Taft then travelled to Paris where he studied sculpture at Ecole des Beaux-Arts, returning to America in 1886 where he met and married Ada Bartlett with whom he had three daughters. He began teaching at the Art Institute of Chicago, where he lectured and taught for over 4 decades. For the World's zrxColumbian Exposition, Taft created two massive murals for the Horticulture building, and in doing so, enlisted the assistance of many of his female students, launching the careers of Enid Yandell, Janet Scudder, Julia Bracken and numerous others in an era where it was considered impossible for woman to be professional sculptors or artists.
In 1903, he published History of American Sculpture, which became the standard text in universities on American sculpture and remained so until 1968. In 1906, Taft relocated his studios from Chicago's loop to an old brick barn in Hyde Park in the shadow of the fair's Midway Plaissance and the University of Chicago. Over two decades, Taft expanded the building, and built dormitories to house himself and a group of affiliated sculptors who were under retainer with local architecture giants, Pond and Pond. In 1921, he published Modern Tendencies in Sculpture, a compilation of his lectures at the Art Institute of Chicago. He also travelled and lectured, all while completing dozens of masterpieces throughout the United States. His greatest masterpiece is the Fountain of Time, at the base of the Midway Plaissance, made at nearby Midway Studios, where Taft died in 1936.
Lorado is an Austro-Daimler Vent Noir. Austro-Daimler's roots as a company stretch back to 1899, but their bicycle making days were primarily during the 70s and 80s as a racing bike manufacturer. Their Vent Noir was their second highest-level bicycle, below the Ultima, and just above the Superleicht. The frame is constructed of Reynolds 531 tubing with elegant lugs that were highlighted with gold lines on the original Vent Noir. I am guessing very early 80s.
My frame had four odd holes drilled into it when I got it. UV of UV Metal Works did the powder coating, and frame repair, including a couple of dents that needed to be made right. The smoky black effect is augmented by the glaze-like fading at the highpoints and pooling at the edges of lugs and braze-ons.
The idea for Lorado was born when I saw an ad in Craig's List for someone that was going to go out and get a bunch of bike parts anodized red and was looking for others interested in going in on it. Since I knew I was building a bicycle for Ross Felten, my friend, band mate and the artist of all of our bike tour posters and website drawings, the red anodized parts seemed like the perfect way to really customize his bike. They anodized some no-name bullhorn handlebars and quill stem, Sugino cranks and 46t chainring. This was added to a Bianchi seat post, Tange Levin headset, Shimano BB-UN54 sealed bottom bracket, Tektro R538 black caliper brakes, Cane Creek 200TT brake levers, a Selle San Marco Strada saddle, Cinelli Cork tape, Jagwire red housing and a red KMS chain. I built the wheels using Sun M13 II rims laced with DT Swiss spokes to Formula Flip Flop hubs, with a Surly 16t cog and a freewheel.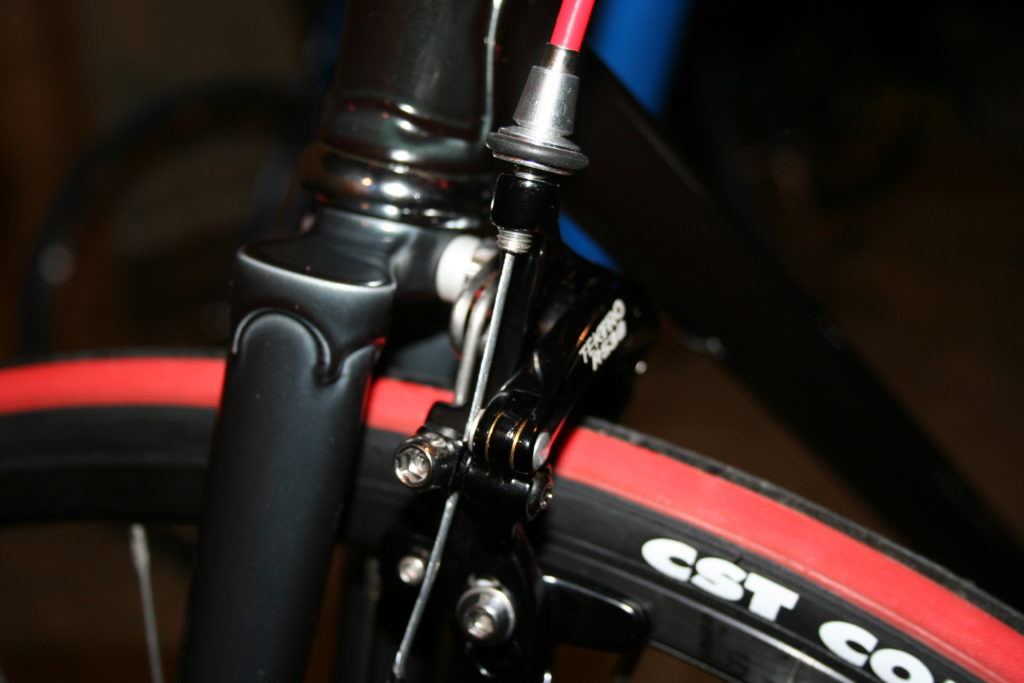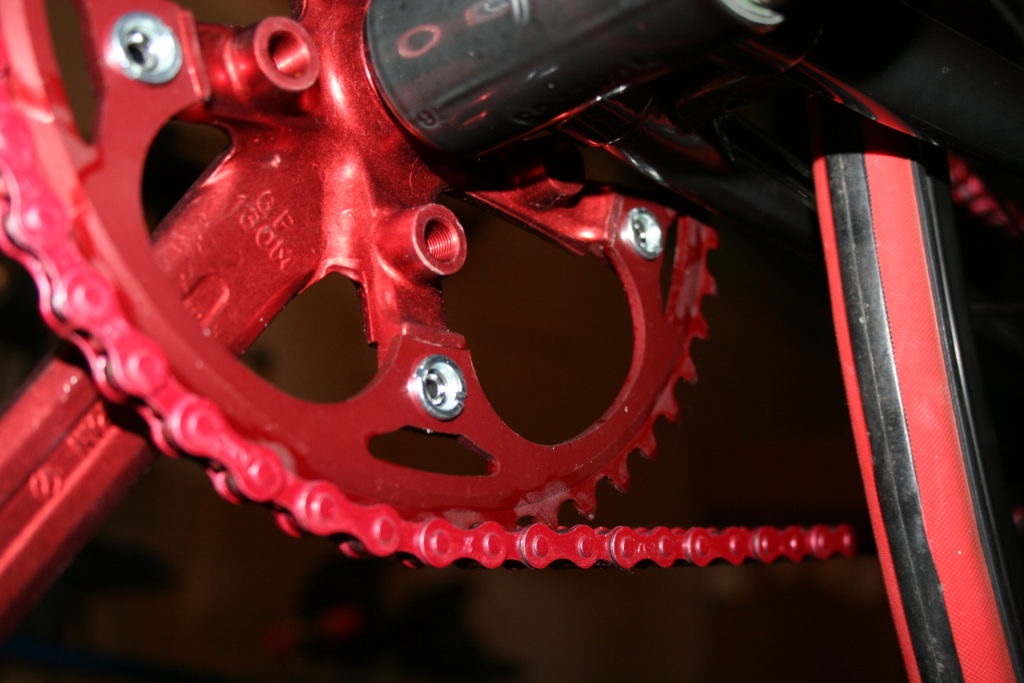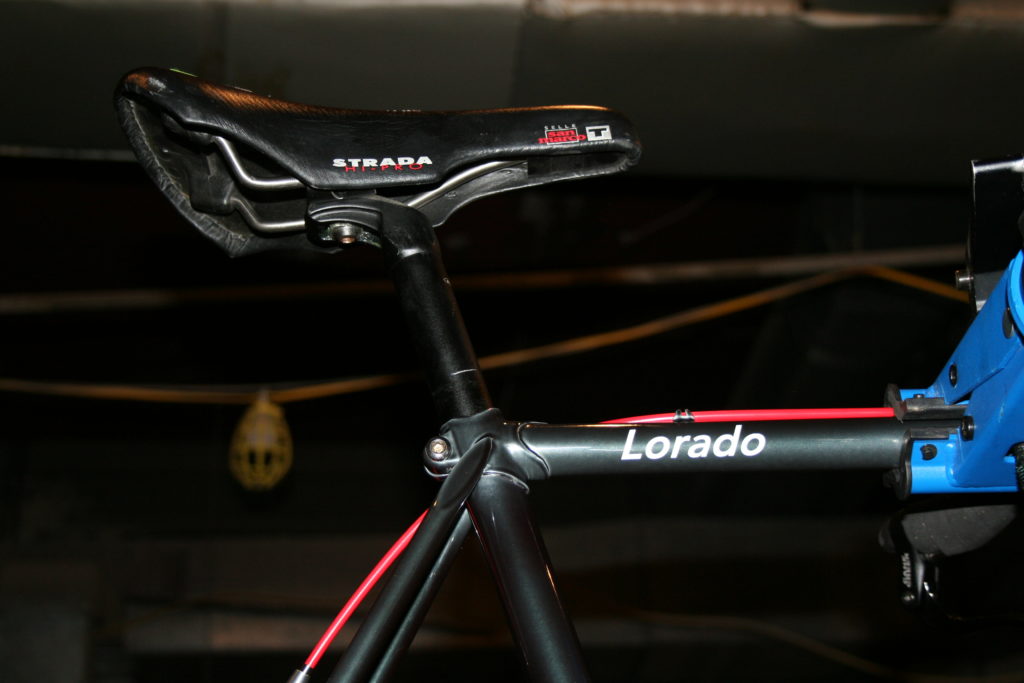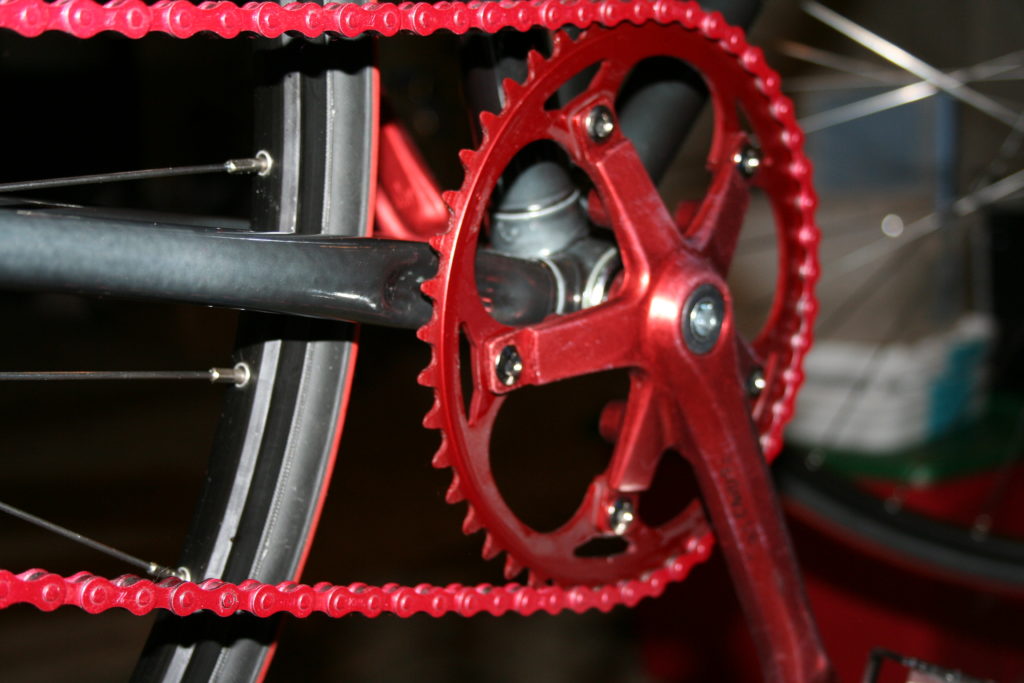 Lorado's owner is Ross Felten, and I am still deeply in his debt.