Bertha – Bertha Palmer – 70s Corso Record conversion – spoken for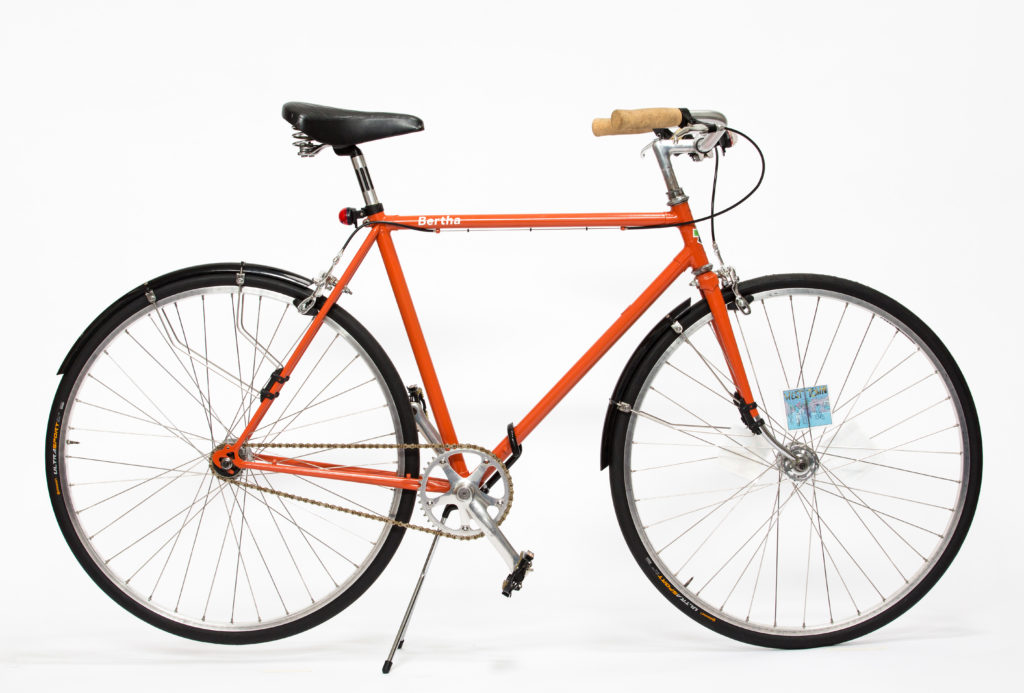 Bertha Honoré Palmer was a legendary woman in Chicago's history. Daughter of Chicago businessman Henry Hamilton Honoré, wife of developer and real estate magnate Potter Palmer II, and mother to sons Honoré and Potter III, Bertha was also a politician, linguist, businesswoman, musician, writer, administrator and philanthropist.
Bertha Matilde Honoré was born on May 22, 1849 in Louisville, Kentucky. Bertha married the 44 year old Potter Palmer II when she was 21 years old and the couple assumed their place at the top of the high-society Chicago social scene. As a member of the Chicago Woman's Club, Bertha worked to provide Kindergarten before the city offered it in the public school system and to provide inexpensive milk for impoverished mothers and their children. She was President of the Board of Lady Managers of the World's Columbian Exposition, using the post as a way to boost the achievements of women in exhibits at the fair. She was an avid art collector, and her collection was donated to the Art Institute of Chicago and forms the basis of their Impressionist collection. She was an extraordinary businesswoman, who doubled the value of her husband's real estate holdings within 16 years of his death.
Bertha's later years were spent in Florida, and Sarasota County, but she will always maintain a special place in Chicago history for her influence and philanthropy.
Bertha is a Corso Record, an Italian steel bicycle from the early 70s. The bike features lovely lugs and a relaxed geometry. She is very light weight for a frame of this era. She is a 52cm frame from center of bottom bracket to top of seat tube with a semi-relaxed-road geometry in the frame, and a touring style fork. Her long horizontal old-style dropouts made her a perfect single speed conversion, and she wears it very well. The frame and fork were stripped and powder coated in "Pure Orange". On the day of delivery to the permanent curator of Bertha, she suffered a catastrophic fall, putting two significant scratches in her otherwise pristine finish. Fate says it stays that way. The fork stays are the original chrome.
The Italian threaded bottom bracket and crankset are both older Campagnolo Chorus and are threaded to flip-flop Shimano pedals for street shoes on one side, and Shimano SPF on the other. Chain ring is a 42t. Wheels are built on high-flange Formula Hubs, laced to Sun CR-18 27" chrome rims. The rear wheel features a Shimano Dura-ace 16t freewheel on one side, and a Dura-Ace 16t cog and Dura-Ace lock ring on the other. The bike originally would have featured center-pull brakes, so the long distance to the brake mounting holes required extra-long calipers, even with the 27" wheels that the bike would have originally had. Bertha is therefore fitted up with Cane Creek 200TT brake levers and Dia-Compe dual-pivot long-reach brakes. She is fitted with the original saddle, seat post and headset to go with a System Components quill stem and Profile Designs bullhorn handlebars. New Cinelli Orange tape, Jagwire housing and fresh cables and KMC chain complete the machine.
Bertha's owner is my buddy and business partner Carrie Weston.