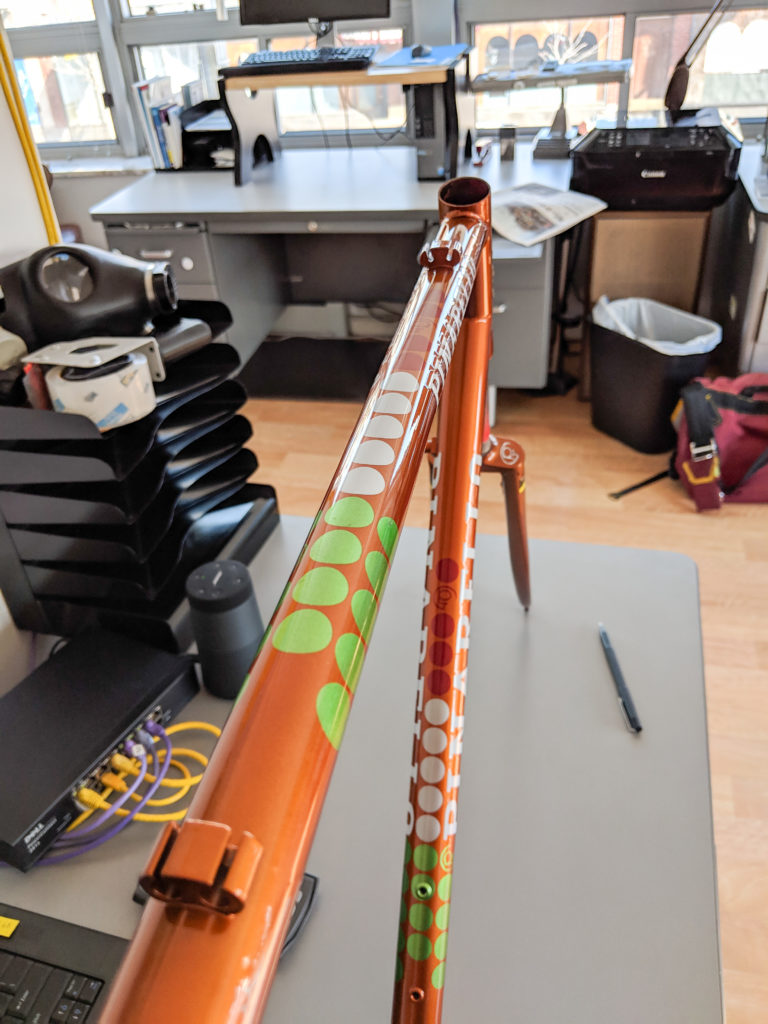 It has been about a year and a half since I wrote an entry on Chicago Velo.  It was even further back that I last held a tour of Chicago's neighborhoods in the summer of 2017. That summer was the apex of a snake bit year. That July, my father died.  My sister and I and our families had a lot to get through dealing with the aftermath. Many moons later, we are close by my mom now and get to visit with her frequently. Our son Jackson is doing great in school, got his new wheelchair and communication device last year and has had 3 plus years out of the hospital, which is wonderful following several years with frequent and prolonged hospitalizations. My wife Chaney is in her third-year teaching at Amundsen High School, which she enjoys much more than her previous school. Our daughter Zoe has been kicking 4th grade's butt with a schedule that has included lots of activities, sports, music, art, clubs, scouting, and more.  I also finally was able to get my shoulder repaired after a long and painful period of misdiagnosis and ineffective treatment. Knocking on wood, since then I have been blessed with good health and have been injury free, chronic neck and back issues aside. As Chaney reminds me often, I am no longer a spring chicken, and certainly the assortment of pops, cracks and pulls that accompany daily life reinforces this over and over.
So, while it has been a good while since I last posted, the intervening time has been much calmer, still very busy, but fulfilling.
I get asked frequently when I might start up the tours again, and truthfully, I am not sure if I will, or when. There are times I miss it. I long for the social engagement, the friends I would see at the tours, or at our Bike Building Mondays and just the interaction with the larger Chicago cycling community. I miss sharing my love of Chicago, cool buildings, amazing architects and the history of our area. I enjoyed partnering up with lots of worthy non-profits for collaborative endeavors and meeting people from all walks of life that loved biking, and/or architecture, and/or Chicago history. I loved getting people out on their bikes and hearing from people who were inspired by the tours or took people back to places we visited. I genuinely long for more Ross Felten posters and images that helped brand the tours and gave these rides a completely unique identity. I liked hearing from other cyclists that were motivated to do their own outings, tours, and make their own adventures. If I never do another tour, these are the great memories and things I will keep with me forever.
Conversely, I have not missed a lot of things about the tours either.  I had been very lucky to do 10 years of tours all over Chicago without any major accidents or injuries for any of the riders, but often I worried that it was only a matter of time before that would change. I don't miss the politics or the infighting I saw regularly when engaged in the world of bike advocacy through partnerships, events and mutual collaborations. It was disengaging for me in what ideally would be a mutually supportive cycling community but was too often fractious and undermining.
The creation of each tour was a substantial investment of time, but attendance had everything to do with weather, and low attendance can get discouraging. I don't miss the logistics of printing, hanging and mailing out thousands of posters or of laminating hundreds of maps, notes and places of interest. I don't miss finagling with walkie-talkies, locking up rental bikes to come back to after the tour, or performing maintenance on the fly on a rider's bike that hadn't been ridden for years before they brought it out for that day's tour. I don't miss wondering if we lost a rider and had to go find them or if they had just decided they had enough and rode off on their own.
In short, I miss the good stuff and I don't miss the arduous, tedious or worrisome stuff. The intervening months since the last tour have certainly been filled with lots of biking.  I ride much more now that I am just riding for myself. Almost all of my rides are solo. I can ride when it is convenient to fit into the little bits of daylight in a full schedule, and I can push myself without concern for others' preferred riding pace or style. I do less neighborhood exploring, but I see more sites. I focus on my fitness, my stroke, my form, the world going past, my cadence, the feel of the bike, the road ahead and enjoy the spoils of a clearer mind, an energized outlook and a more active and healthy self.
Bicycling is still very much central to who and what I am.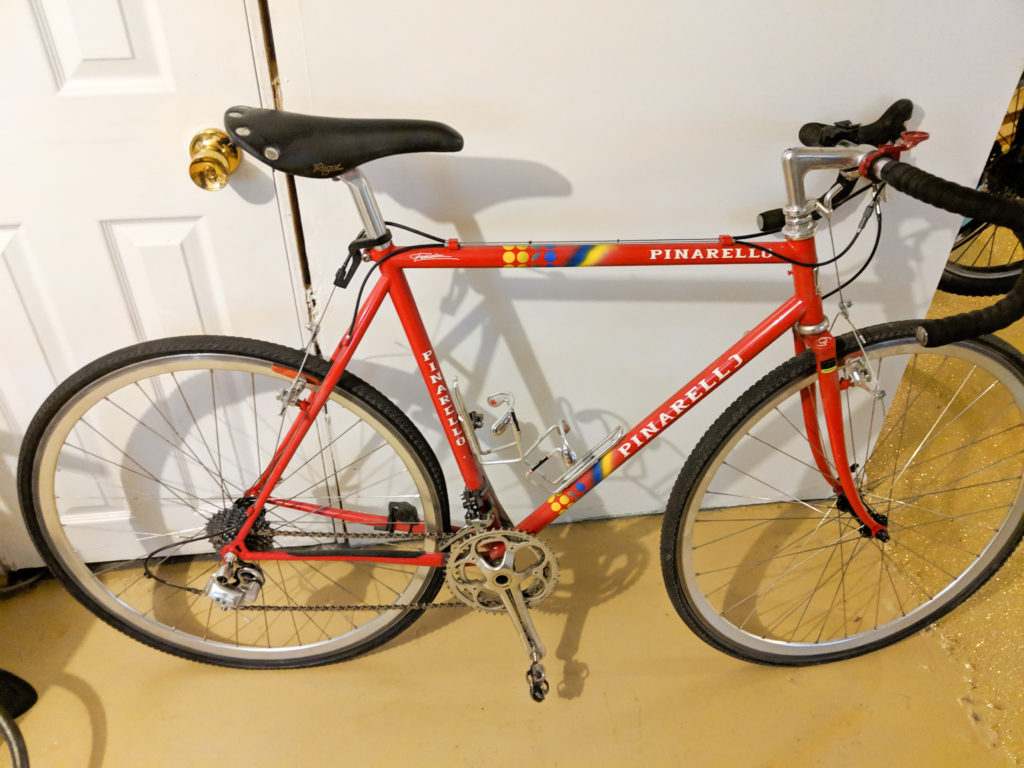 Most of the riding I do these days has been road riding but this time of year, when the roads are crappy with the cumulative mess of winter's debris, it's the perfect time to do some road rides on a cross bike. My Cross bike is an old steel Pinarello. It didn't even have a model name, and it is heavy AF by modern standards, but it is a beautifully built frame and an extremely comfortable ride on or off road, but it needed a paint job.
I met Duane Waller, owner and operator of Chester Cycles, many years ago at the first Winter Bike Swap. Chester Cycles is a bike frame painting company and for years Duane had done a combination of bike frame painting and paint repairs. He is the go-to paint guy for repairs on bikes for Colnago USA. He painted one of my bikes before, the Geoffrey Butler 70's road bike that I built up with Michael Abene and later had Ben Fietz of Tailwind Cycles help convert into a 3-speed road-commuter. Duane's work was and is immaculate and the Butler is more fun than should be legal.
Duane is moving on from full frame painting out of concern for his long-term health and exposure to so many airborne chemicals. Even with the preparation and caution he uses in his spray booth with ventilation, respirator, etc., he was still breathing in an unhealthy, and accumulating amount of paint and finish and he made the difficult decision to focus on repairs only. Who can blame him? Still, it is sad to see the end of this era.
When he announced this chapter closing, he posted that he would do only 3 more complete frames, and I quickly chimed in to see if I could claim one.  Initially, I was a day late and a dollar short, but one of the folks who had one of the last 3 jobs he was going to do backed out when they couldn't get their frame ready in time to accommodate his schedule, so I jumped right in.
The bike in question was an early 80's all-steel Pinarello cross bike.  The frame was an eBay purchase, and just like the Geoffrey Butler, I built it up with my friend Michael Abene. It was a 54cm frame made of Pinarello Dolmen tubing, one of their branded-Dedacciai steel tubing used during the 80s. When I got it, there was some missing sections of decal lettering, but the paint was in great shape with a cool circle motif, though after a couple of years of banging around trails, it had its share of scratches, chips and dings. The frame is a little funny in terms of cable routing, with the rear derailleur cable running along the top tube and down the seat stay and the front derailleur routing through a single shifter boss on the left side of the downtube and then down below the bottom bracket shell.
We outfitted it with a combination of Campagnolo Athena 11 speed drive train, Campy Record headset and hubs, Super Record bottom bracket, Chorus cassette, Nitto stem, bars and seat post, DT Swiss rims, Specialized Trigger Pro tires, Shimano XT SPD pedals, Elite bottle cages and of course my trusty San Marco Regal saddle. Originally, we went with Paul Components Mini-Moto brakes, which I hated and eventually replaced with a set of Paul Cantis which were MUCH less finicky.
Michael and I hit the Des Plaines River Trail a lot after building that bike up.  I did a couple of cross races before the last one resulted in a broken clavicle and the ensuing months of my wife having to do the bulk of the heavy lifting of Jackson. This necessitated that I opt out of any more racing, but we still did plenty of flying over the DPRT and various other single-track trails here and there. The Pinarello was also a great all-season commuter but eventually, it hit one or another bump or rock or root or something too hard and there was a crack separating the downtube from the bottom bracket shell. I am a heavy rider, and that certainly did not help. I was able to get Owen Lloyd of Blue City Cycles to repair the frame. A quick trip to the hardware store with the frame in hand resulted in a relatively decent match for the frame paint and a new can of spray paint, and that was how the bike has been for the past couple of years.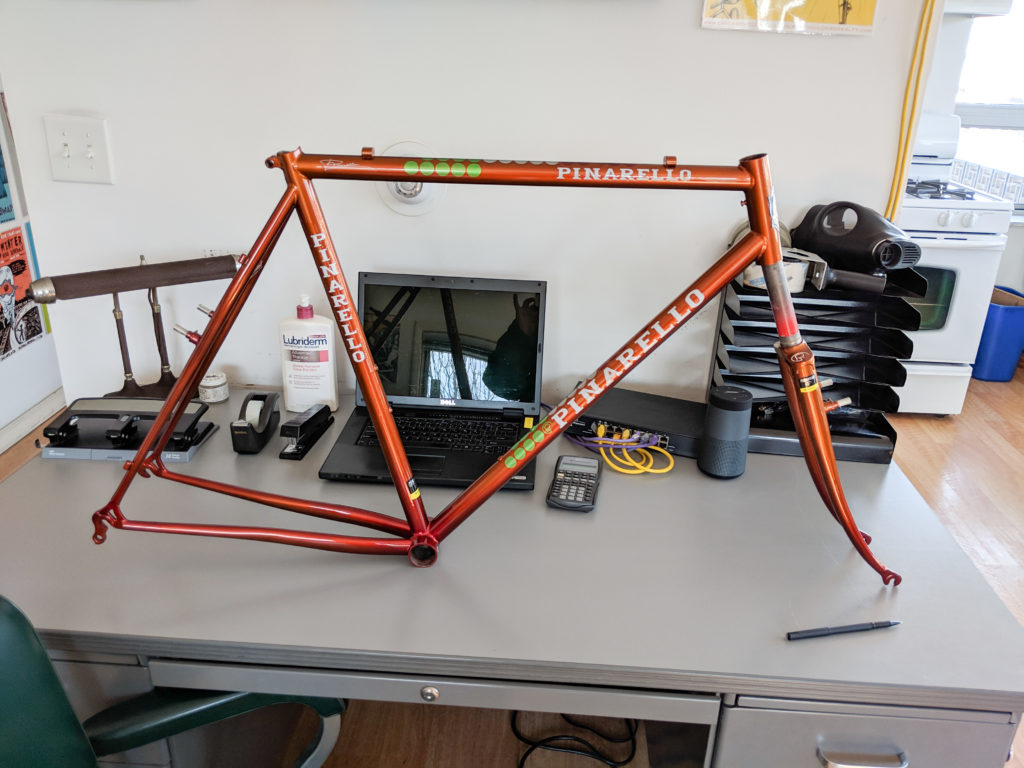 Knowing how creative and amazing Duane's work has been, I told him he had carte blanche to paint the frame as he wished. His vision was to create a fictional-special edition Pinarello paint job that utilized several of his impressive techniques. The color at the top of the frame and the fork is like a copper-burnt sienna and gradually transitions into a Candy Red at the bottom of the bike and fork. He mimicked and expanded on the circle theme of the original paintjob, and we got a set of recreated Pinarello decals that most closely matched the original, including the tubing decals.  The result is a stunning ride that is so damn amazing that I find it hard to even pass by the bike in my basement without taking a moment to appreciate how utterly sweet it is.  Duane is the absolute bomb and I am so glad that I got one of his last full frames.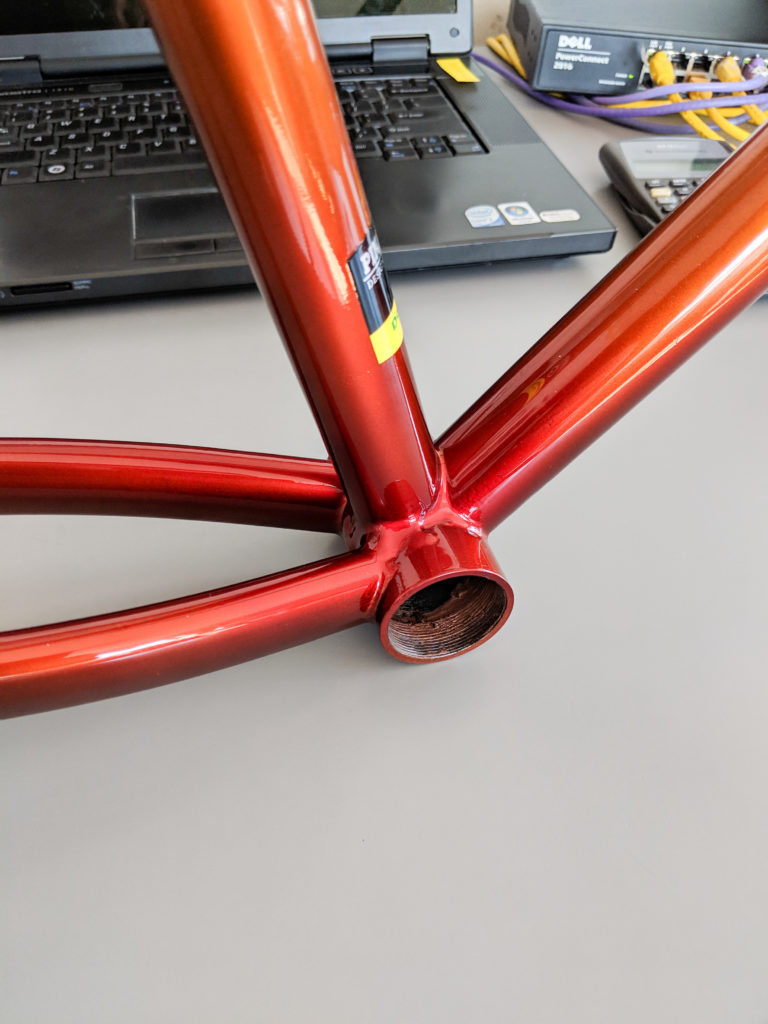 In a bit of serendipity, Owen Lloyd, who did the frame repair on the Pinarello, got the very last full frame job by Duane.
Just like the Geoffrey Butler, I brought the bike to Ben Fietz at his and Steven Blum's shop, Tailwind Cycles to complete the build. He got all new Campy cables and housing and fresh as all get-out Supacaz bar tape with a nice orange star theme that I HAD TO HAVE as soon as texted me a picture of it. The result is the baddest Cross bike I have ever seen.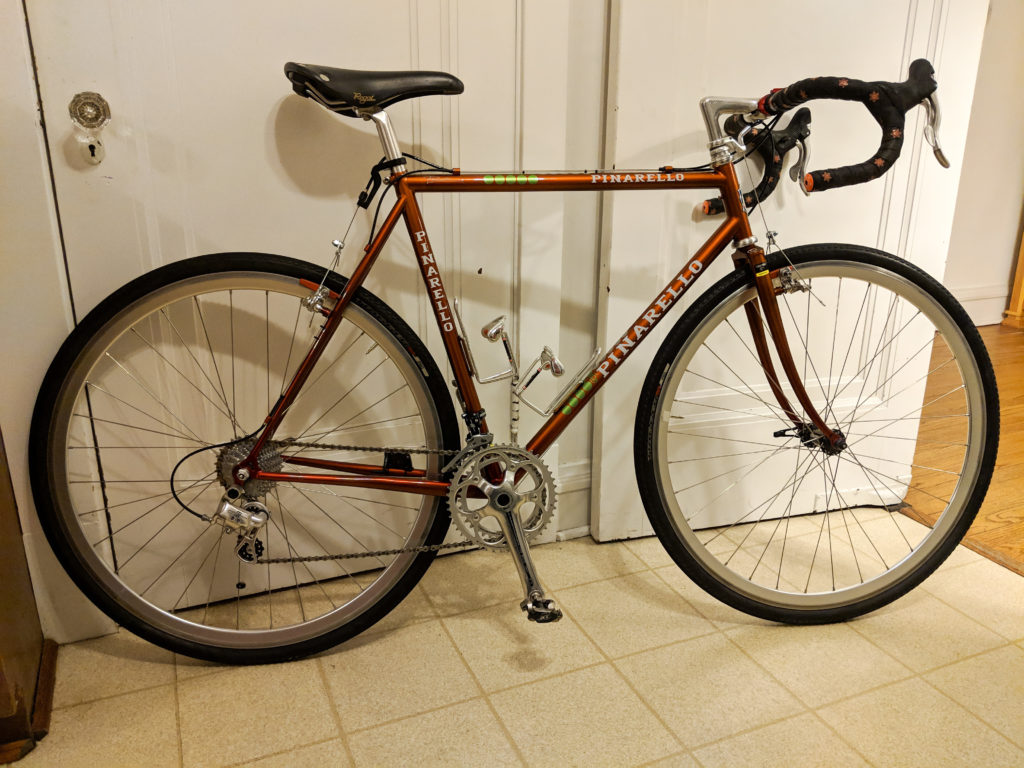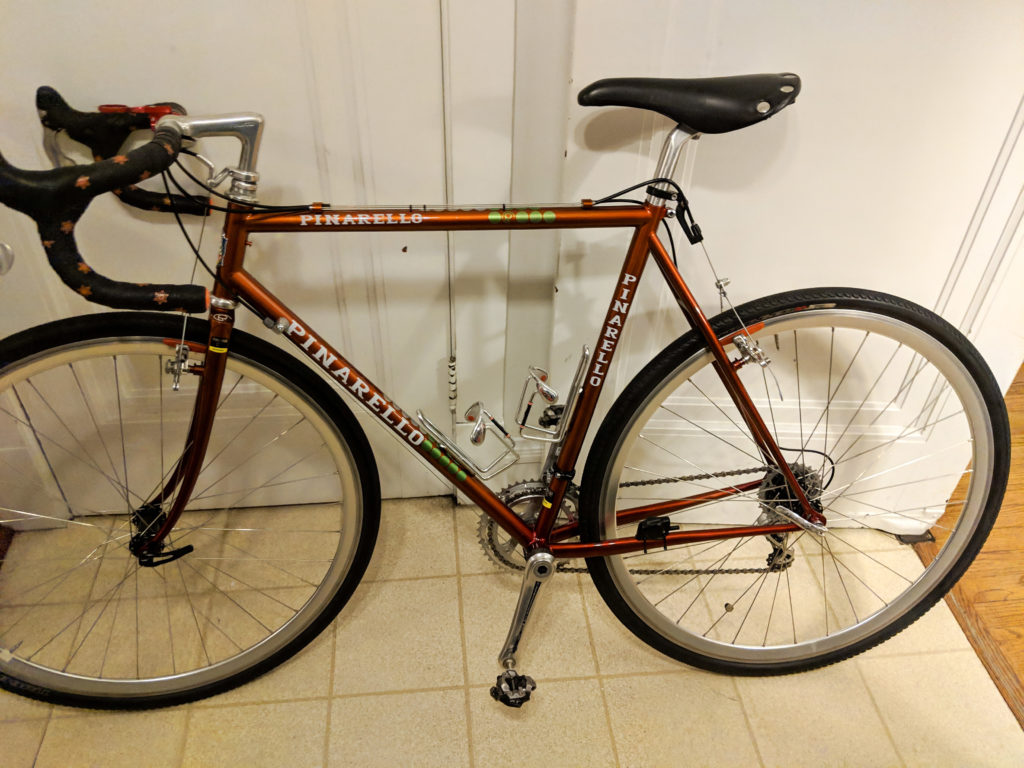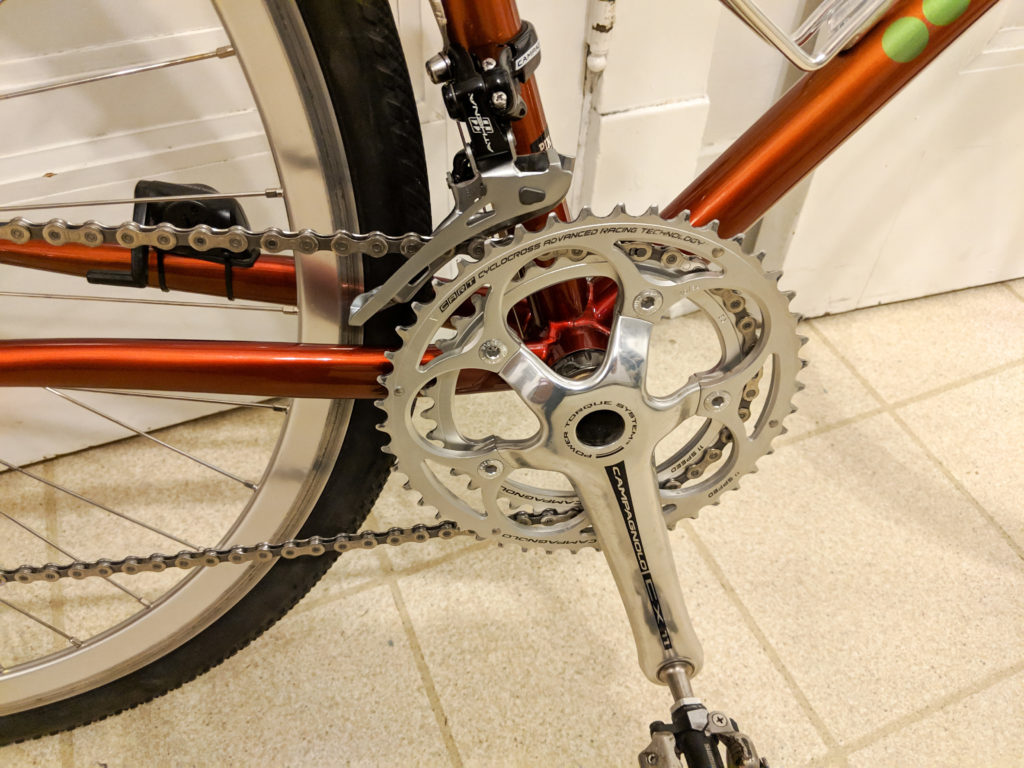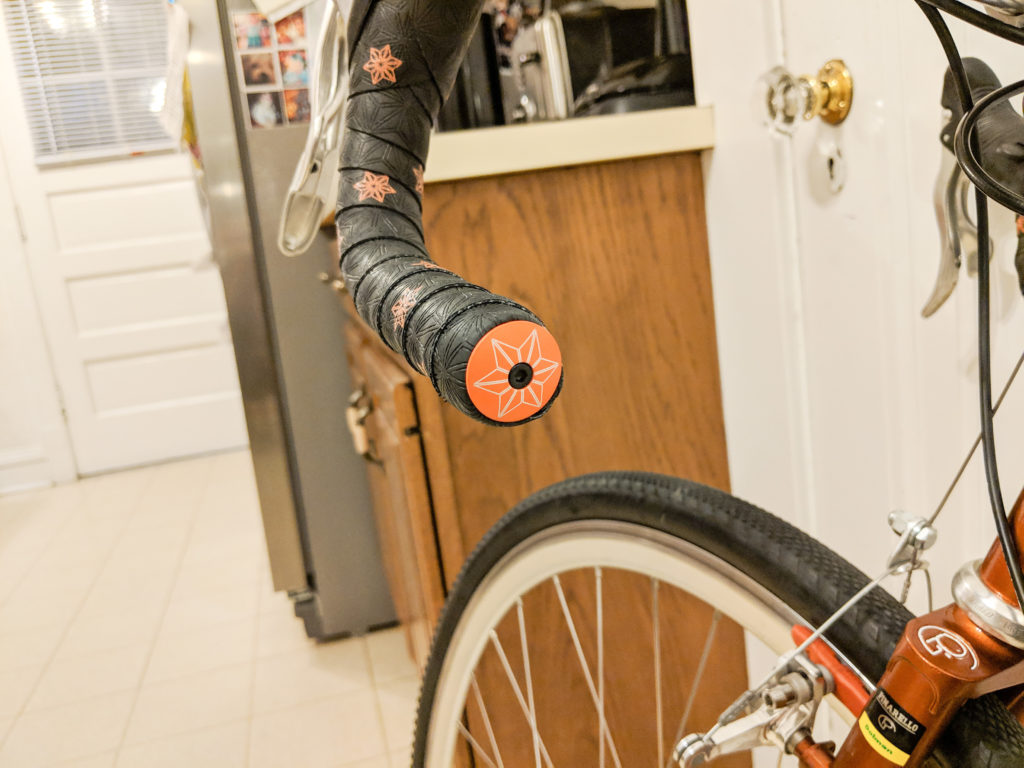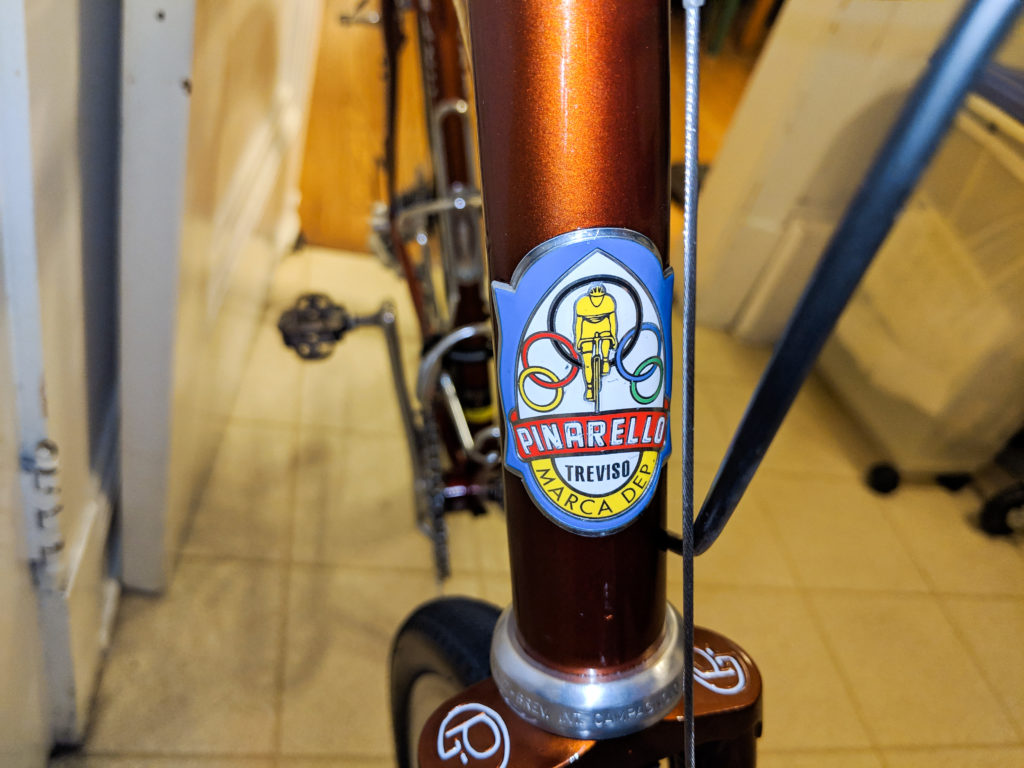 Last Wednesday, I took it on a shake-down ride, and I am happy to report that this bike is every bit as fun to ride as it is a joy to look at. The trails this time of year in the Chicago area are too wet to do much off-road stuff, but there was a variety of road, trail, path, and some single path on the ride that were dry enough that they wouldn't cause damage to the terrain.
I am looking forward to the drying out of the DPRT and a return to some trail rides to break up all the road rides and a long winter that had me on the trainer more than I cared for. I am also looking forward to writing more, riding more, and showing off this wonderful bike.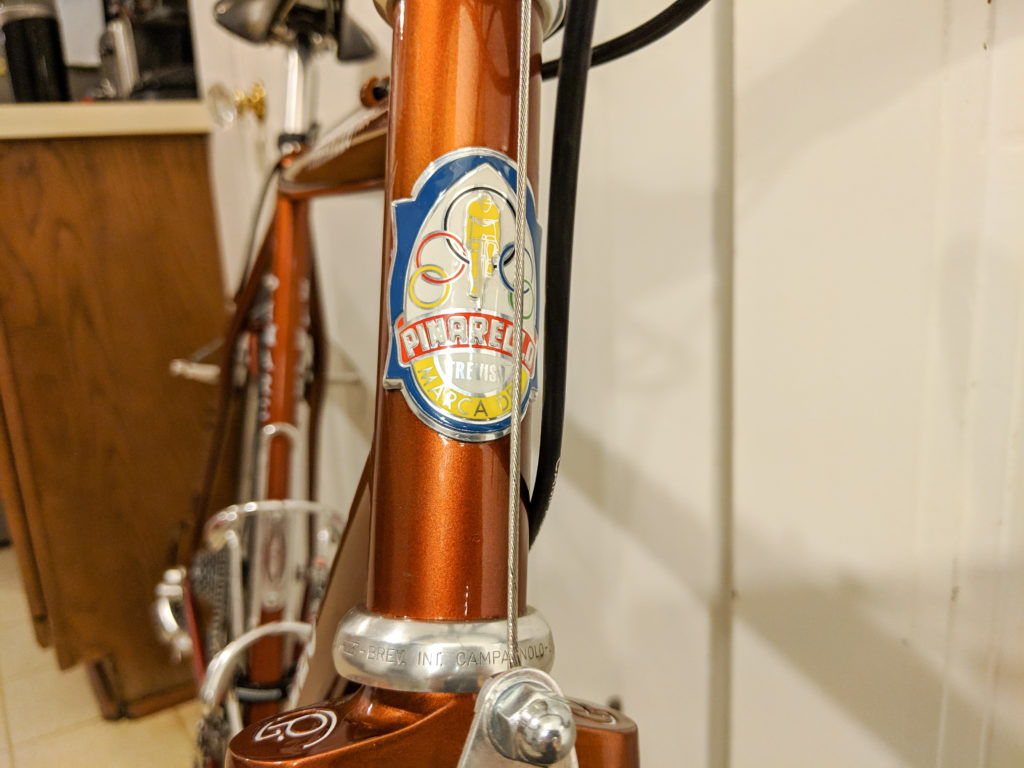 If you like this type of retro-mod build, stay tuned for the sale of all of the Chicago Neighborhood Bike Tour loaner bikes. I had intended to do this sale some 2 years ago, but life, being what it is, intervened. I hope to share this sale in a new post in the next several weeks.
So, until then, take care out there. I hope to see you on the road, or off, real soon.